Round 7 of the Australian Carrera Cup Championship brings us to Bathurst in NSW where we will race as support for Australia's most famous Motorsport event, the Supercheap Auto Bathurst 1000.
We returned to Denison College with our Youth Safety Presentation for the second year running to speak to the next generation of students. Even though some of the students knew what to expect our presentation is designed to really 'cut through' and it had 'without a doubt' as much impact as it did the first time around.
With our approach of relaying our experiences of the consequences of bad decisions it is a really unique way of sending a clear message that everybody needs to be responsible for their own actions as well as planning for the bad decisions of others.
We really think we drove the message home. Here is what some of the students had to say.
What was the strongest message you took away from the presentation? It's not only your life you can destroy by making bad decisions, it can also have major affects on the people around you.
I think this presentation has the ability to change peoples lives and should happen in every school.
Ricky Daymond - Student at Denison College
Would you recommend this presentation to other schools? YES! It is different having the same story told from your peers or teachers. To hear it from the people that it actually happened to or affected is completely different.
Shania Morgan - Student at Denison College
The presenters took a very full-on approach about their tragic and exuberant life events, especially Paul's and Matt's stories which really pulled at the heartstrings. They didn't muck about and really cut to the chase that there is No Second Chance!
Scott Matheson - Student at Denison College
It was a great pleasure to once again be given the opportunity to tell our story to the students at Denison College and share our simple yet extremely important message:
Make smart decisions and live your dreams – Make dumb decisions and there is N2C.
We now have a big weekend of racing ahead where N2C Ambassador Warren Luff will be giving it everything he's got to extend our lead in the Carrera Cup Championship as well as competing in the main event with Garth Tander in a V8 Supercar for the Holden Racing Team (HRT).
For regular updates over the weekend be sure to follow our Facebook page.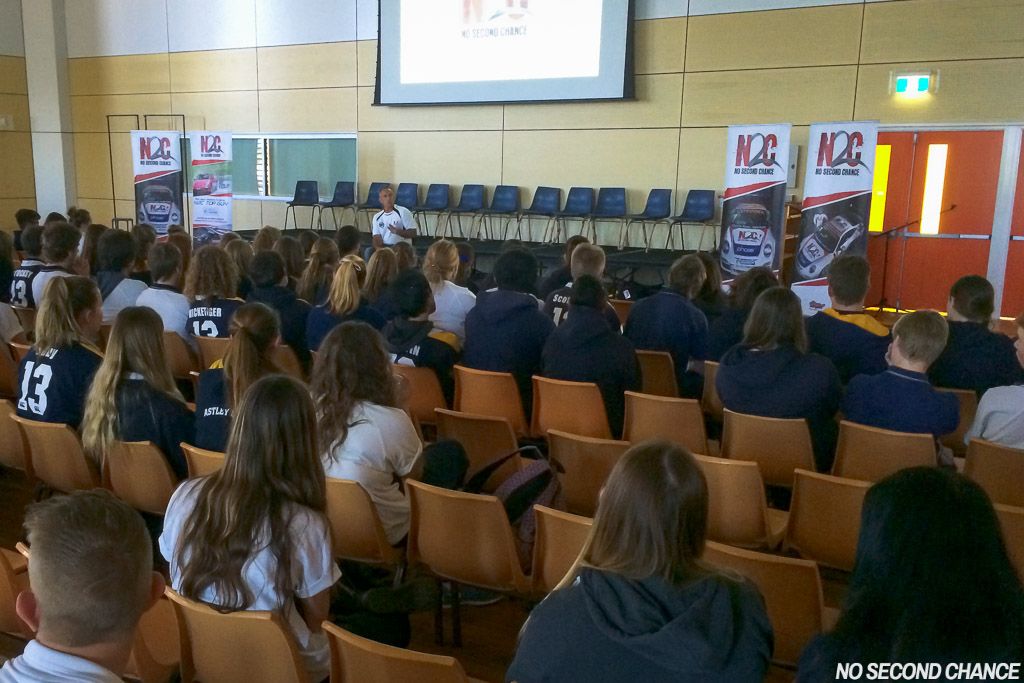 Matt Speakman connects with the room as he tells his confronting and inspiring story...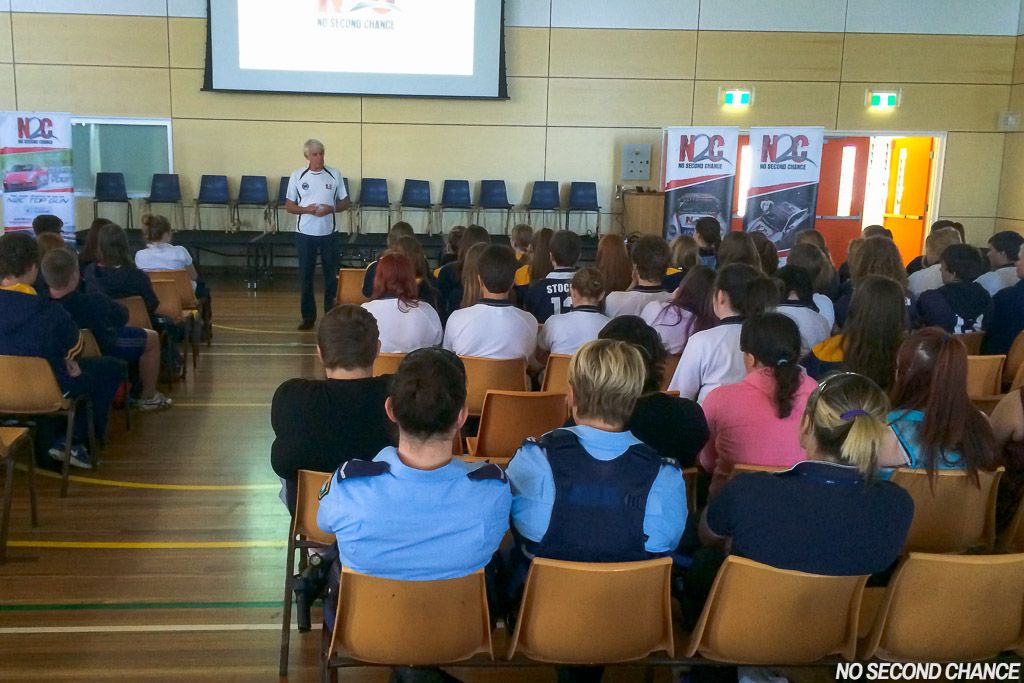 Representatives of the local Police were once again on hand to watch our presentation.