Our most recent N2C presentation was at Coomera Anglican College on the Gold coast on Thursday 17th May. This was our first visit to this school and we presented to over 300 year 10, 11 and 12 students.
'CAC' was opened in 1997. Since its early beginnings at a Coomera farmhouse, Coomera Anglican College seeks to inspire excellence in teaching, learning, service and the Anglican faith. Today the College has grown to become one of South East Queensland's most progressive educational institutions educating students from kindergarten to year 12. The College boasts architect-designed Primary, Junior and Senior Secondary campuses and quality facilities which include an Aquatic Centre with a 25m, eight-lane pool, gymnasium, Performing Arts Centre and a Visual Arts Studios and Gallery.
The presentation was a great success and very emotional for many students, here is what some of them had to say afterwards.
I am so thankful that you have gone to the effort to share this message, when I was walking back to class I've never seen my cohort so understanding and so gentle with each other. I hope this touched other people the way it touched me.
Jordan Cope-Williams - Student at Coomera Anglican College
Your presentation really touched me and your speeches brought me to tears when I heard how these mistakes damaged your lives and took away Paul's son's.Thank you for sharing your stories as they will make a positive change in my life and many others.
Lachlan Evans - Student at Coomera Anglican College
What was the strongest message you took away from the presentation?
To cherish the moments you have with your loved ones and to not take things for granted, also to not make stupid decisions that may affect that.
Jackson Templeton - Student at Coomera Anglican College
We left the students with our strong and important message:
Make smart decisions and live your dreams… Make dumb decisions and there is No Second Chance !!
Our next presentation is on 24th May at the Kings School, Parramatta in NSW.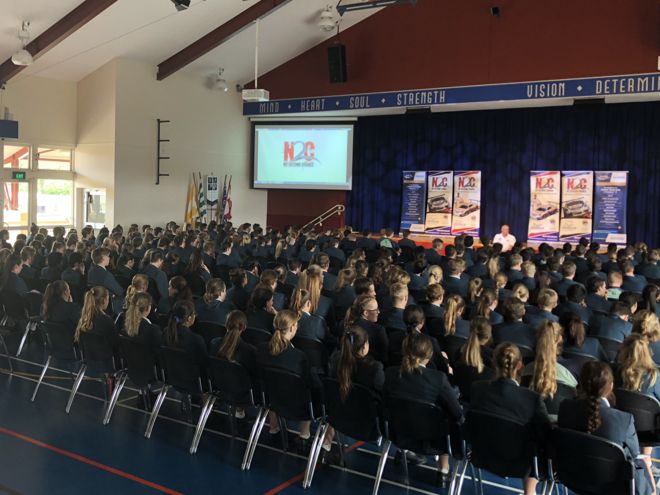 Matt Speakman talking to the students at Coomera Anglican College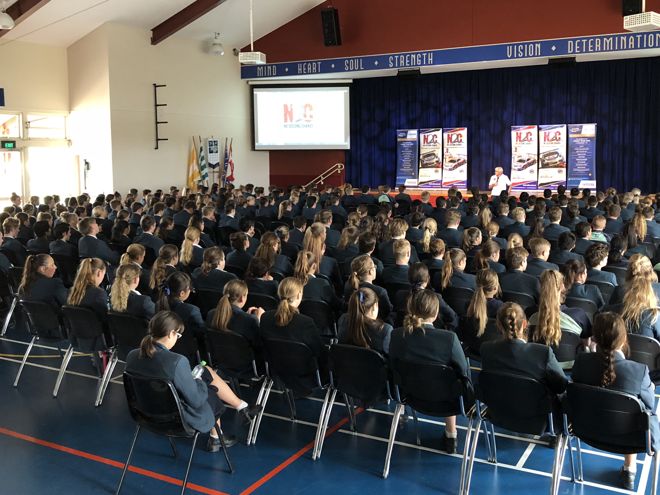 Paul Stanley talking to the students at Coomera Anglican College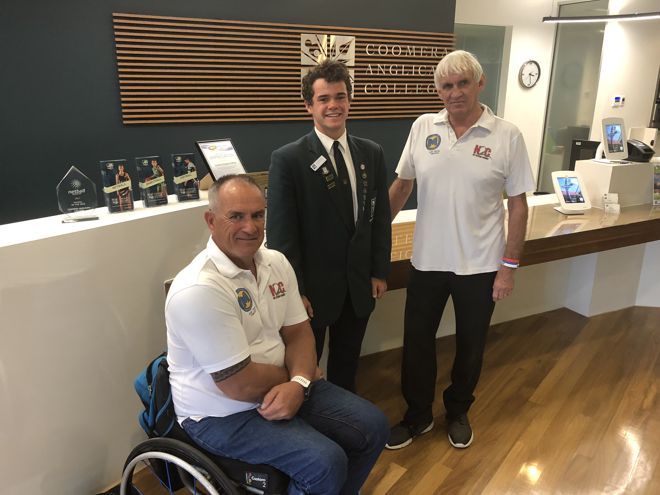 N2C's Matt Speakman and Paul Stanley with Coomera Anglican College School Captain Kyle Bartlett
---
The N2C Top Gun Program
Recent N2C Graduates from Coomera Anglican College can enter the N2C Top Gun program for their chance to win an exclusive invitation to the Porsche Sport Driving School to complete the 'No Second Chance Porsche Sport Driving School Young Driver Program'. Read more about: The No Second Chance Top Gun Program