Our most recent N2C presentation was on Friday 17th June at Palmerston Senior College in Darwin where we presented to 120 year 10 and year 11 students in the lead-up to round 4 of the Porsche Carrera Cup Championship.
It was our first visit to Darwin and we were originally scheduled to present to more than 1000 teens at the Australian Teenage Expo which was cancelled a few weeks earlier. Fortunately, youth engagement police officer Kim Dye invited us to Palmerston Senior College allowing us to get our message to the Northern Territory.
Palmerston is the fastest growing city in the Northern Territory and Palmerston Senior College is an Independent Public School catering for 550 students in Years 10 to 12. It has a reputation for academic excellence, however their vision is to ensure that every student is given the skills and knowledge necessary to achieve their individual goals and potential beyond the school gate.
Palmerston Senior College is a very well presented school with modern facilities and has been formally recognized for it's excellent facilities, committed professional staff, vibrant arts program, innovative range of senior secondary specialist programs and supportive pastoral care network.
Here is what some of the students had to say after our presentation:
I would like to say thank you for coming to our school and showing us a great presentation and letting us meet with people who went through a lot of hard times. I believe it is very helpful for us to see this presentation.
Lwin - Student at Palmerston Senior College
What did you think of each presenters approach?
I found it very professional, educational and moving. By that I mean it has affected me and opened a new perspective to take more care of friends and be aware of things around you, and be more cautious when making my decisions.
Zachary Hartshorn - Student at Palmerston Senior College
Would you recommend this presentation to other schools?
Yes, it made myself and everyone else think about the dangers on the road and how it can impact others, other schools need the knowledge as well.
Allison Weber - Student at Palmerston Senior College
We left the students with our strong and important message:
Make smart decisions and live your dreams…
Make dumb decisions and there is No Second Chance !!
Special thanks go to Deputy Principal Craig Overell, who hosted us on the day.
Our next stop is at Cleveland Youth Detention Centre in Townsville on 7th July in the lead up to round 5 of the Australian GT Championship.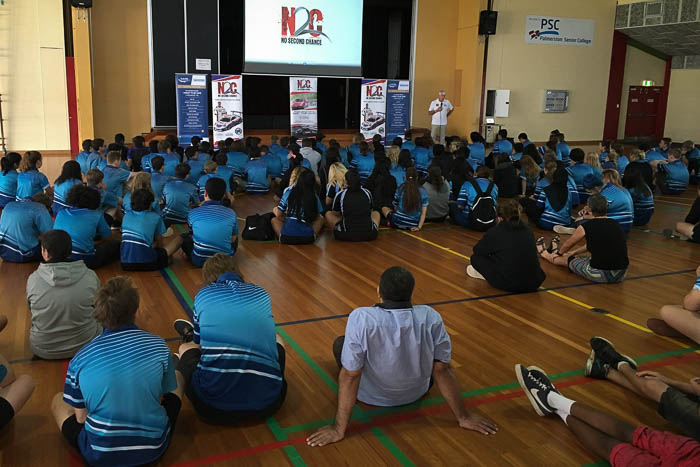 Paul Stanley talks to the students about the consequences of peoples actions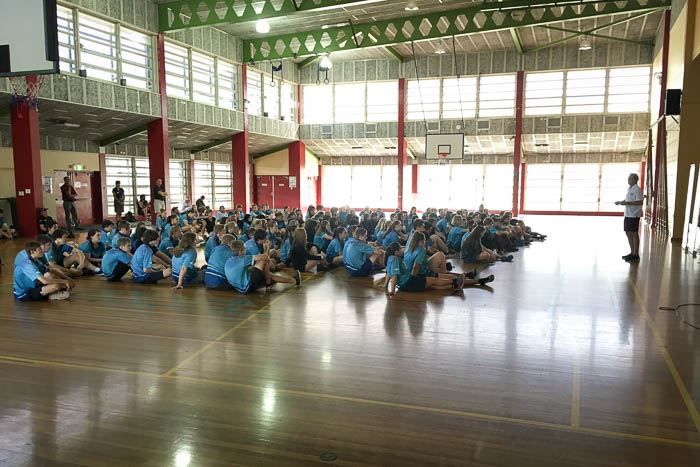 Warren Luff talks to the students about the staying focused on your goals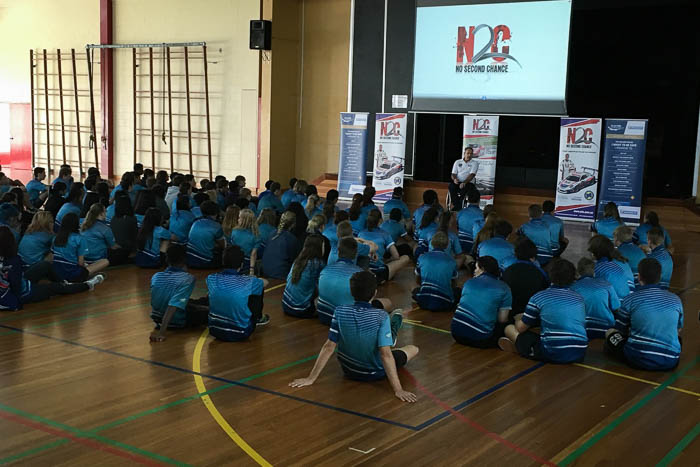 Matt Speakman talking with the students about his life since the accident
---
The N2C Top Gun Program
Recent N2C Graduates from School_Name can enter the N2C Top Gun program for their chance to win an exclusive invitation to the Porsche Sport Driving School to complete the 'No Second Chance Porsche Sport Driving School Young Driver Program'.
Read more about: The No Second Chance Top Gun Program