Our most recent N2C presentation was at Dandenong High School in Victoria.
We presented to 650 year 11 and year 12 students. The students at this school are at the other end of the social spectrum in relation to our prior presentation at The Kings School in Parramatta.
Dandenong High School is one of the oldest, largest and culturally diverse secondary schools in Victoria. There are more than eighty languages represented among the two thousand students.
In order to ensure students develop a deep sense of belonging and connectedness to the school, teachers and fellow students, they have created a highly unique vertically structured House model. Within each House, which is a state-of-the art designed Learning Centre, there are 300 students, 50 from each Year level from Year 7 through to Year 12.
Here is an example of some of the feedback we received from these students:
What was the strongest message you took away from the presentation? The strongest message I took away from the presentation was to think before you act and that if you make a dumb decision, there's no second chance. The decisions you make affect those around you!
Yasemin - Student at Dandenong High School
What was the strongest message you took away from the presentation? To make smart, conscious decisions throughout our life, especially throughout our adolescent years. Not to be influenced by others, and to listen to your gut instinct if something doesn't feel right. Nevertheless, pursue our dreams and goals!
Tamara Pecer - Student at Dandenong High School
I hope you guys keep doing what you are doing because it has impacted my choices on the road and in life – Thank you very much!
Sohail Rasouli - Student at Dandenong High School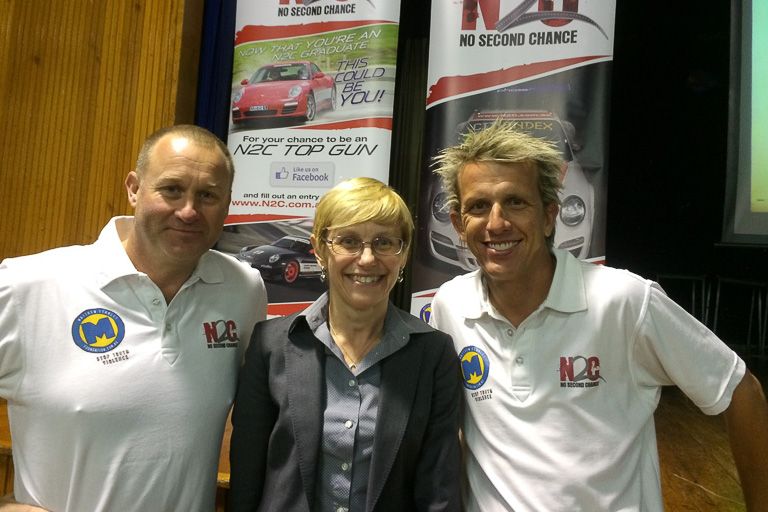 Andy McElrea and Warren Luff from N2C with Dandenong High School Principal Susan Ogden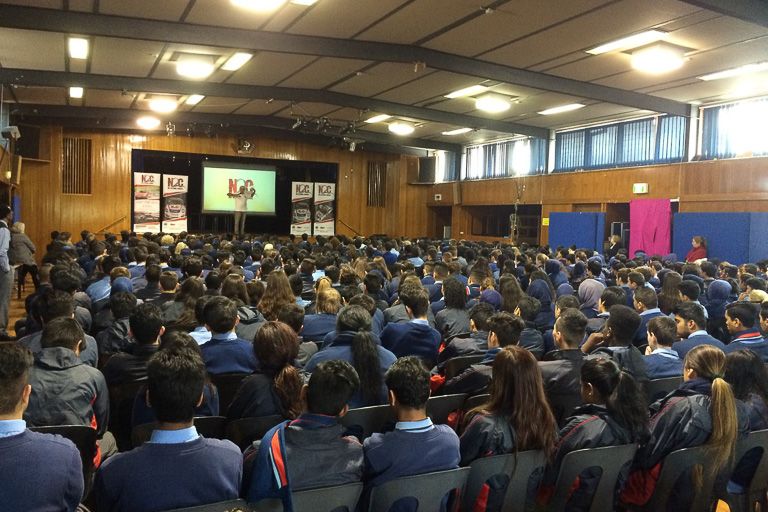 Paul Stanley talks to the students at Dandenong High School about the consequences of people bad choices.
Our next presentation is at the Denison College of Secondary Education in Bathurst in the lead-up to the Porsche Carrera Cup at Bathurst in October.
Thanks to everyone for you continued support!