We have started the 2021 N2C year with a bang with two awesome presentations on the Gold Coast on the 24th May.
Our first visit was to The Southport School on the Gold Coast to almost 200 students. Founded in 1901, TSS is an Anglican day and boarding school on the Gold Coast for boys from Prep Year to Year 12 with boarding available from Year 5. The Southport School is a known as a world-class school for boys with a Christian learning community in the Anglican tradition. We first presented at the school in July 2013 so this was our ninth consecutive visit to the renowned boys school.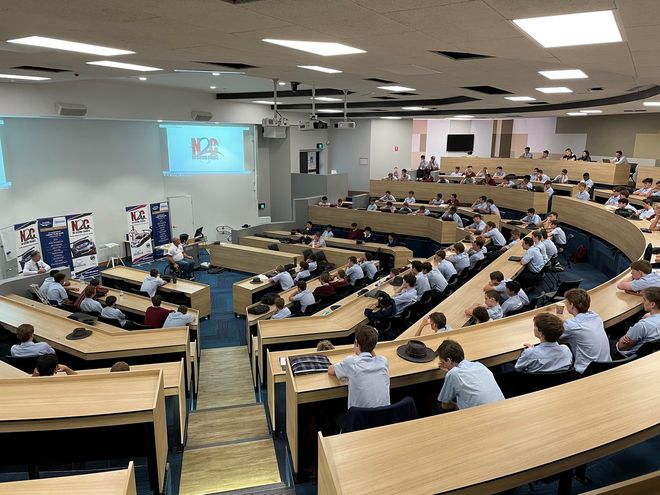 Our second event was also our first visit to Assisi Catholic College. Founded in 2005, Assisi is a Prep to Year 12 co-ed school which aims to enhance the parent's work of shaping morally strong, independent young adults in the Catholic tradition. Students are connected through their expansive curriculum, strong Franciscan tradition, Family Team system and College Habits and Values and the college motto of Shape Your Tomorrow nominates the student as the "shaper" of their destiny.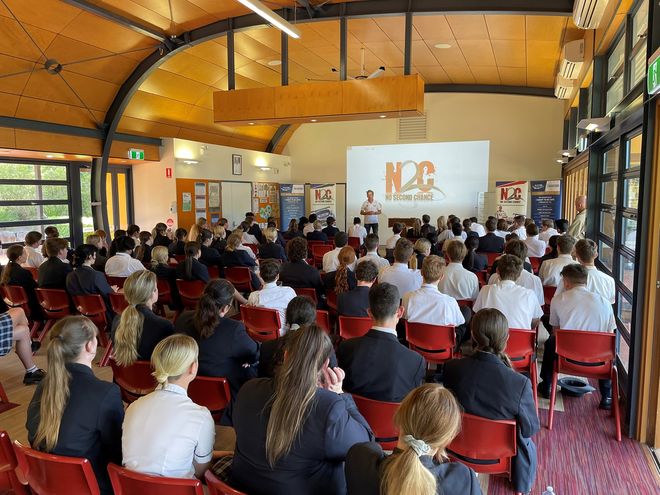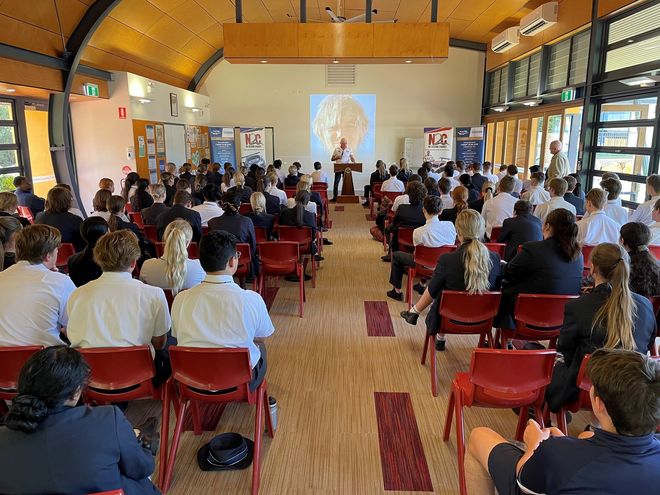 It is always especially rewarding when a parent reaches out to the school to thank them for having us present to their teens. Here is a great example:
I am compelled to write and let you know how thrilled I was to have my son, Liam O'Connor, get in my car this afternoon and proceed to tell me in great detail about the seminar he attended that was presented by the No Second Chances team. Liam rated it as one of the best seminars he has attended at the school ranking it just above the Man-Up workshops he enjoyed in Year 10. He talked about it at length for the entire journey home to Mermaid Waters. He told me how moved he and the rest of the year 12 cohort were listening to the stories that were shared with them today. He said he held back tears listening to the speakers and that the father who spoke about losing his son to drunken violence reminded him of his grandad. He said he felt so sad thinking about the loss of life and the ripple effect of the impact of these terrible experiences on so many people. I believe the boys gave the presenters a standing ovation at the end of the seminar and it was genuinely heartfelt.
I want to congratulate you for providing these seminars. I have been disturbed by the culture of underage drinking that is widely tolerated by our community and makes any discussions around abstinence almost impossible. Consequently, my conversations with Liam have had to become more nuanced (which is very difficult for me as I am dreadfully short on subtlety) and much of my focus has been spent trying to impress upon my 16 year old son how alcohol can have devastating effects especially when drunk to excess such that personal safety is compromised. Today, I believe that the lesson I have been trying to impart into the deepest parts of his brain (and heart) really hit home – so I am profoundly grateful that he had the opportunity to hear from the No Second Chances team. So many thanks to you for making it happen and please keep this initiative going!
A Grateful TSS Parent