Our most recent N2C presentations were on Wednesday 25th November at Scots All Saints, Denison College of Secondary Education and St Stanislaus College in Bathurst.
With the crazy year we have all had, we were extremely fortunate to be able to coordinate to visit three schools in one day. Needless to say it was a very big day for the N2C team!
It was our first visit to Scots All Saints and we addressed 85 year 11 students. All Saints College is a multi-campus independent Presbyterian Church co-educational early learning, primary, and secondary day and boarding school, with two campuses in Bathurst and one located in Lithgow.
Or second event was at Denison College which also hosted 150 students from the Canobolas Rural Technology High School from Orange. Denison College commenced operation in 2007 and is the largest provider of secondary education in the area with 1800 students, a college teaching staff of 130 and support staff of 30. We first visited Denison College in 2013.
Our third presentation was at St Stanislaus' College which is an independent Roman Catholic secondary day and boarding school for boys. It was founded in 1867 by the Congregation of the Mission's priests and brothers and is located only 5 minutes away from our beloved Mt Panorama race track. It is referred to as Stannies, and we presented to 75 year 11 boys.
Here is what some of the students had to say after our presentation:
What was the strongest message you took away from the presentation?
That the small decisions can make a huge impact on so many people, and that even the slightest poor decision can change lives.
Belle Whitwell - Scots All Saints College
I definitely would recommend this presentation to other schools because those were very strong stories with clear and simple messages that will stay with the audience for the rest of their lives.
Sam Tester - Bathurst High School
The strongest message I took away was that you should be responsible and careful with the decisions you make when behind the wheel and that your choices could impact the lives on many other people on the roads or off the roads.
Tyler Baillie - Bathurst High campus, Denison College
The presentation really pulled at my heart strings. It taught me to be responsible and ensure you live your life with no regret & show your love for others, for they could be gone tomorrow. Don't take your life for granted.
Mason Martinez - Saint Stanislaus College
We left the students with our strong and important message:
Make smart decisions and live your dreams
Make dumb decisions and there is No Second Chance !!
Our next stop is in Brisbane in March 2021.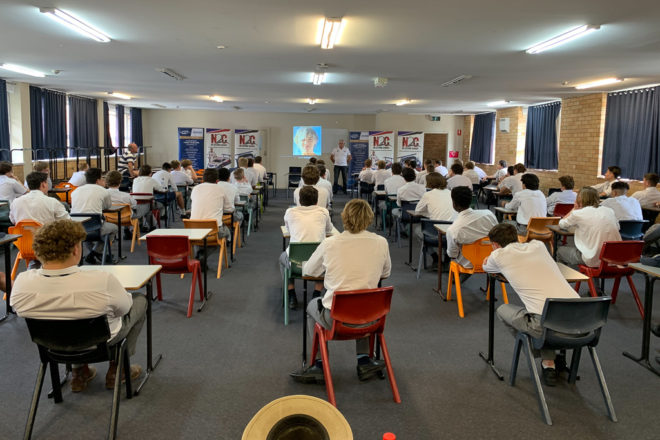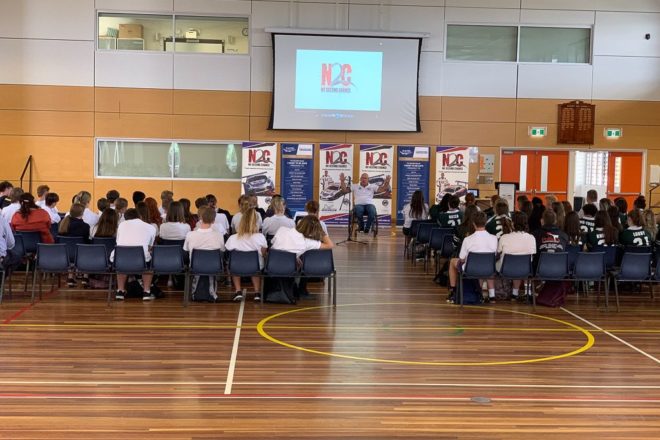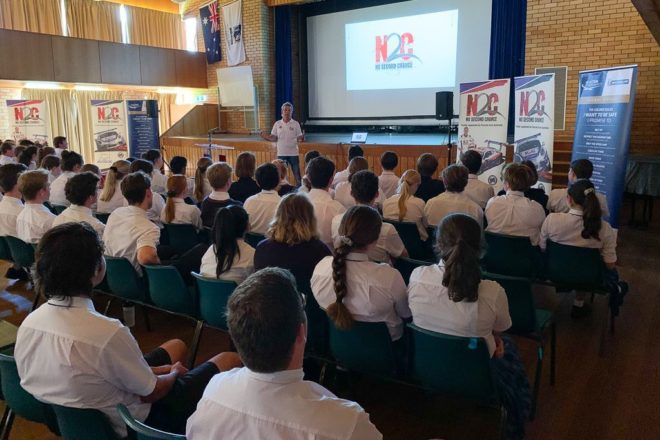 —
The N2C Top Gun Program
Recent N2C Graduates from School_Name can enter the N2C Top Gun program for their chance to win an exclusive invitation to the Porsche Track Experience to complete the No Second Chance Porsche Track Experience Young Driver Program.
Read more about:
The No Second Chance Top Gun Program