Our most recent N2C presentation was to more than 180 year 12 students at Homebush Boys High School in Sydney after the Porsche Rennsport Motorsport Festival at Sydney Motorsport Park.
It was our second visit to Homebush as we presented to the 'previous generation' of year 12 students last year.
Homebush Boys' High School is located 15 kilometres west of the Sydney central business district, in the local government area of the Municipality of Strathfield.
At HBHS they recognise the value of their cultural diversity, which enables students to develop tolerance, awareness and pride as citizens of their community.
The school is a progressive secondary school valuing excellence in the classroom, on the sporting field and in all cooperative community endeavours. They also recognise the importance of the partnership between parents, teachers and students and see it as the key to producing young men who are both prepared for their vocations and responsible for the welfare of their community environment.
Despite a couple of teething issues with their speaker system, it was another great response, particularly by the amount of students who stayed on after the presentation to ask questions of Matt, Warren and Paul.
Here is what some of the students had to say afterwards:
I really enjoyed listening to Pauls presentation, it was very heart touching and I just imagined it being me in Matthews shoes and imagned my family in their places and it made me teary.
Sunny Hamal - Homebush Boys High School
The best part of the presentation was the story was the story of Warren Luff as he shared his story of both his hard times and how he was resilient and was able to recover and chose the correct decisions in life.
Pirannavan Kumaralingham - Homebush Boys High School
I personally was very moved by the tragic stories of the victims simply because their lives and everyone's around them changed. It also made me realise that life is going to throw hurdles at you, but you do your best to overcome them.
Name Withheld - Homebush Boys High School
We left the students with our strong and important message:
Make smart decisions and live your dreams…
Make dumb decisions and there is No Second Chance !!
Our next presentation will be to more than 1000 teenagers at the Australian Teenage Expo at Darwin on Friday 17 June, leading up to round 4 of the Australian Porsche Carrera Cup Championship.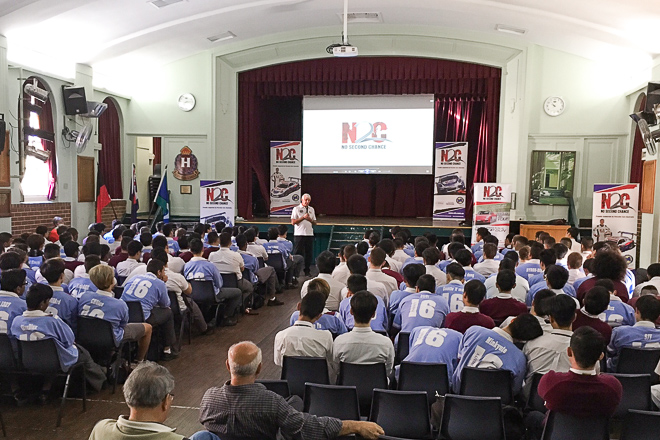 Paul Stanley tells his story to the students at Homebush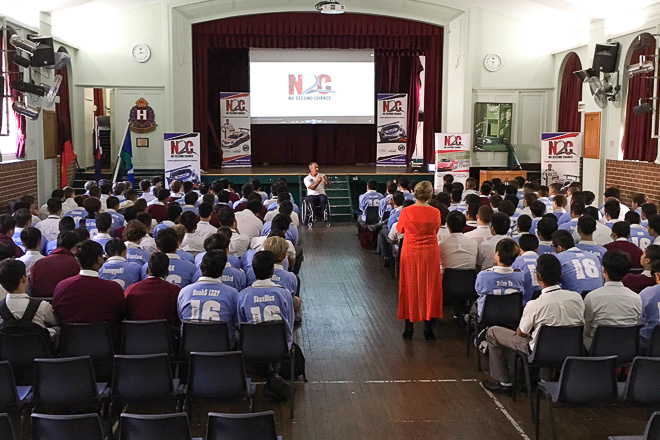 Matt Speakman relives the tragic accident that left him paraplegia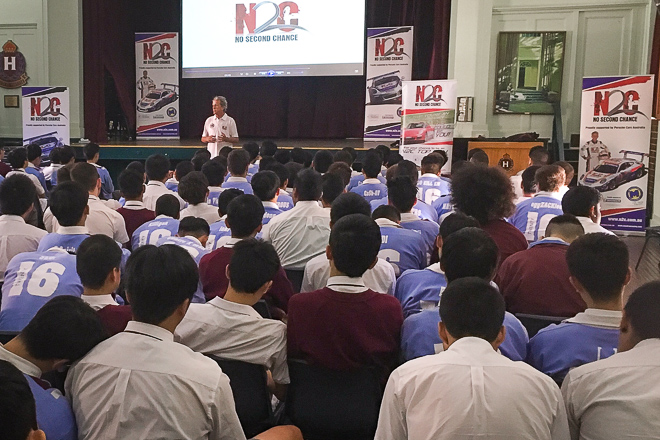 Warren Luff talks about his historic accident at Bathurst and the significant differences in race car safety compared to road cars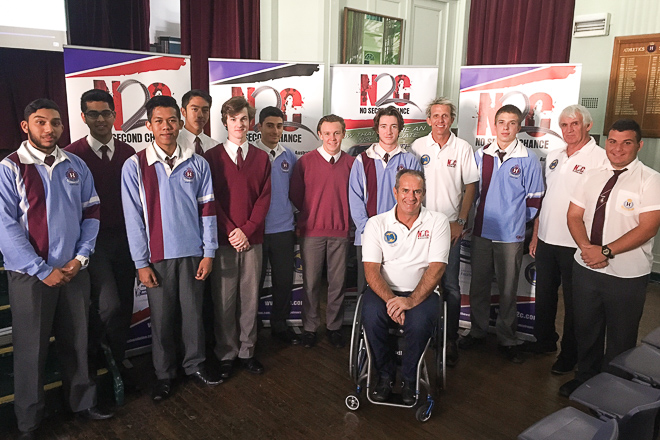 Matt Speakman with the Prefects at Homebush Boys High School
---
The N2C Top Gun Program
Recent N2C Graduates from School_Name can enter the N2C Top Gun program for their chance to win an exclusive invitation to the Porsche Sport Driving School to complete the 'No Second Chance Porsche Sport Driving School Young Driver Program'.
Read more about: The No Second Chance Top Gun Program