Speaking to 100 year 12 Students at Montmorency Secondary College in Victoria the No Second Chance team of Paul Stanley, Matt Speakman and Warren Luff continued our mission to save teenage lives.
Montmorency Secondary is located in the North Eastern Metropolitan region of Melbourne. The School prides itself on teaching the value and empowerment of life-long learning as well as embracing the latest learning technologies and methods.
The College is committed to ensuring that each student has access to a challenging curriculum and is supported by high quality teaching, including a very successful leadership program designed to nurture the full potential of each student.
As part of the leadership program our presentation sends a powerful message to the students about the consequences of our actions.
Here is what some of the students had to say afterwards:
What was the best part of the presentation?
Probably when they said you can change the future but you cant change the past. I took alot from that
Liam Van Leeuwen - Montmorency Secondary
The strongest messages I took from this moving presentation was to not only consider our actions and choices but it gave me a new found appreciation of how lucky I am to see the ones I love everyday and to have the opportunity to try achieve my goals.
Jake Poulsen - Montmorency Secondary
If you had a chance to change something in the presentation what would it be?
Honestly, nothing. This presentation was so moving. Watching the videos and then actually meeting these real life people who have endured so much pain and loss, it is perfect as it is. So emotional – a presentation that will stick with me forever.
Vienna Williams - Montmorency Secondary
Would you recommend this presentation to other schools?
Yes definitely, as I believe the majority of the students are like myself, having a very naive view of our roads and streets. It definitely is confronting to be faced with such harsh reality and would change the views of the students.
Shoma Ikehata - Montmorency Secondary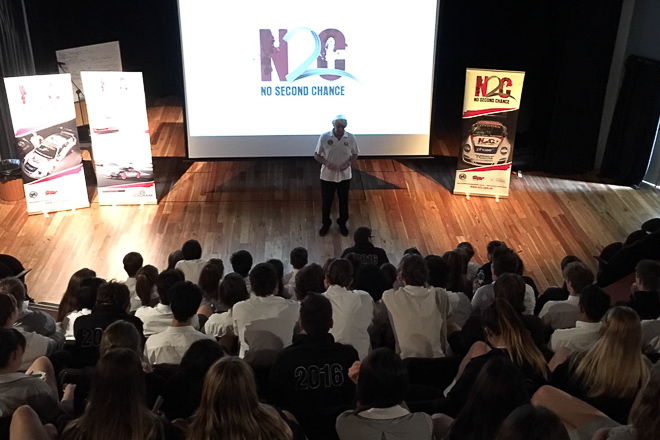 Paul Stanley shares his powerful message with the students at Montmorency.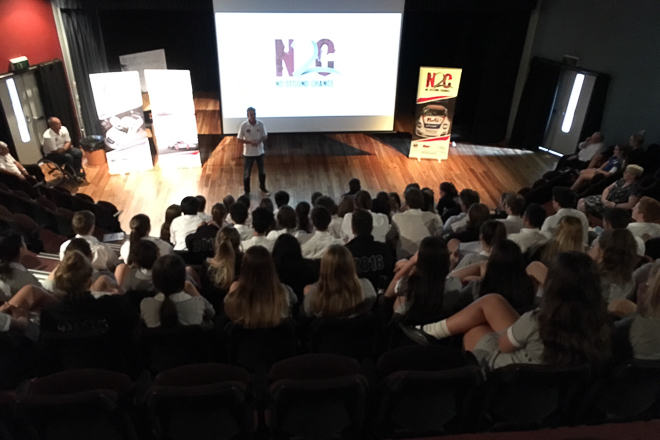 Warren Luff shares his empowering message encouraging the students to work hard at their goals.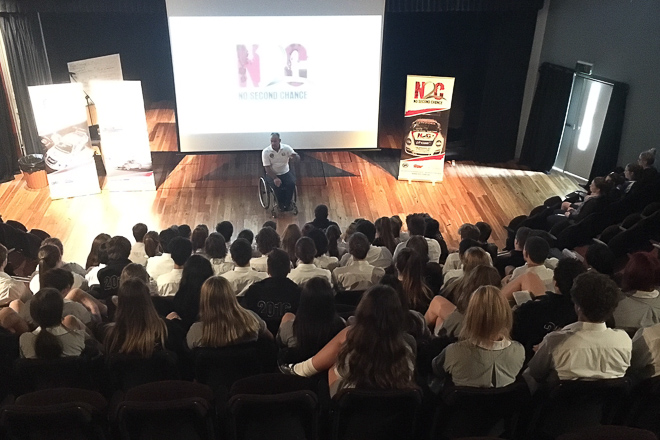 Matt Speakman with his confronting story of being in the wrong place at the wrong time…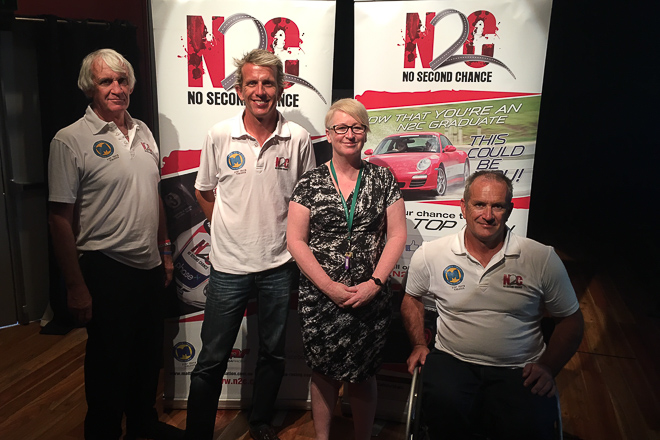 Paul Stanley, Warren Luff, Deb Metcalfe (Year 12 coordinator) and Matt Speakman.
Our next stop is at Darwin in NT in the lead-up to round 4 of the Porsche Carrera Cup on the 15th of June.
---
The N2C Top Gun Program
Recent N2C Graduates from School_Name can enter the N2C Top Gun program for their chance to win an exclusive invitation to the Porsche Sport Driving School to complete the 'No Second Chance Porsche Sport Driving School Young Driver Program'.
Read more about: The No Second Chance Top Gun Program