Our most recent N2C presentation was at Southport State High School on Thursday 17th November. We had expected to present to 150 year 12 students, but as this was the final day of their school quite a few were absent, preparing for the school formal the following day so we spoke to around 100 students in attendance.
The Southport State High School is in the heart of Southport on the Gold Coast and has a proud tradition of being a supportive and caring community delivering outstanding education and opportunities for all students.
SSHS is well renowned for its range of exceptional excellence programs in Sports, Creative Arts and Academics. This was very evident to the N2C team, with many framed pictures of students sporting, musical, dance and performing arts achievements.
We would like to thank Cassandra Sheekey, Dean of Year 12 for hosting us and making the N2C team feel so welcome.
Here is what some of the students had to say after our presentation:
The strongest message that i took from this is that you should always be wary of the choices in life since they can not only affect you but many others people.
Daniel Ho Young Yim - Southport SHS
The best part of the presentation was the talk that Warren Luff did with us as it showed us how safety and planning are the only ways to survive a horrific accident which are not supplied in normal cars driven on the road.
Aiden Mason - Southport SHS
What was the strongest message you took away from the presentation? Don't make bad decisions, drive safely by caring for others safety and to set a goal and reach for it.
Aryian Souri - Southport SHS
We left the students with our strong and important message:
Make smart decisions and live your dreams…
Make dumb decisions and there is No Second Chance !!
Our next stop is at Adelaide in South Australia in 2017.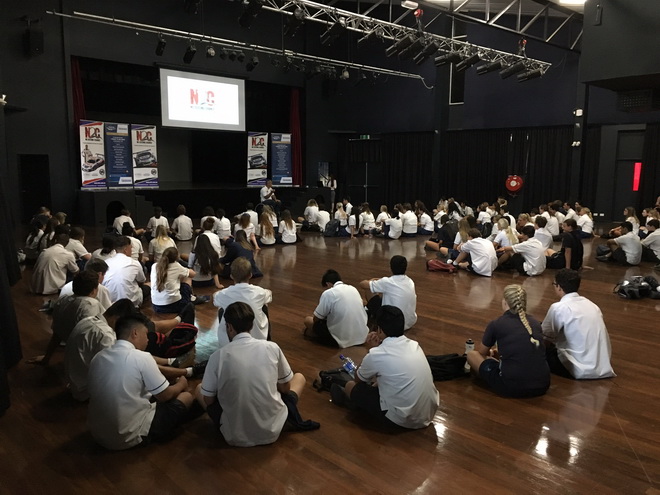 Matt Speakman confronts the students with his story.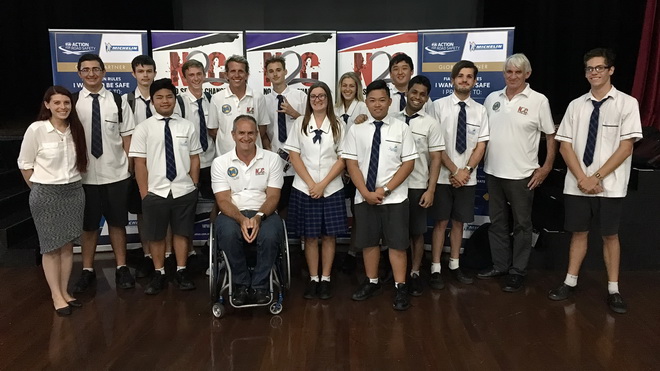 The N2C team at Southport State High School along with Dean of Year 12, Cassandra Sheekey and some of the year 12 students
---
The N2C Top Gun Program
Recent N2C Graduates from Southport State High School can enter the N2C Top Gun program for their chance to win an exclusive invitation to the Porsche Sport Driving School to complete the 'No Second Chance Porsche Sport Driving School Young Driver Program'.
Read more about: The No Second Chance Top Gun Program