Our most recent N2C presentation was at The Kings School in Parramatta on Wednesday 24th August leading up to Round 5 of the Porsche Carrera Cup Championship at Sydney Motorsport Park.
We presented to almost 400 year 10 and 12 Students. This was our second visit to The Kings School, Australia's oldest independent school and renowned for its academic accomplishments plus sporting achievements in Basketball, Cricket, Rowing, Swimming and Tennis in summer and Football, Rugby or Cross Country in winter.
The King's School integrate our No Second Chance presentation with their own 'Boys to Men' (B2M) program for their year 10 Students. This program seeks to better prepare boys for life in the real world covering areas such as Driving, Cooking, Ironing, Finances, Relationships and a week long trek learning life skills.
Our visit this year was particularly poignant considering 2012 one punch victim Thomas Kelly and the recent suicide of his younger brother Stuart who were both Kings students.
The best part was how real the events were. It was touching to see personal opinions and viewpoints on the far-reaching impacts of our decisions in life. Paul Stanley was particularly effective in his storytelling.
Hamish Cranney - The King's School
Would you recommend this presentation to other schools?
Yes definitely, we have had many policemen come in and speak on the topic but to hear from individuals personally affected and the way it has affected more than just one person's life is astronomical and needs to be understood by the broader community.
Sean Anese - The King's School
We were blessed to host N2C at King's this year. The presentations were timely as our boys were dealing with the loss of one of their own through "one punch".
They were challenged to think about the reality of life and their perceived invincibility. Paul Stanley confronted the boys with a powerful message relating to the impact of the loss of a loved one through one punch. This part was real, heart wrenching and has left a permanent mark on many.
The segment relating to drinking to excess and road trauma hit home. Our boys were challenged to think about the consequences of partying and alcohol. Many are doing a serious re-think about their approach to life.
Warren Luff lightened up the presentations by sharing his story and encouraged the boys to chase their dreams, with some useful hints and tools to use. I believe that N2C coming to King's has had a tremendous impact on our students. It was worth it if "only one was saved".
Wally Tarasenko - Conveyor - Driving Wisely B2M - The King's School
We left the students with our strong and important message:
Make smart decisions and live your dreams…
Make dumb decisions and there is No Second Chance !!
Our next stop is at Dandenong High School in Victoria in the lead-up to round 6 of the Porsche Carrera Cup Championship on the 14th of September.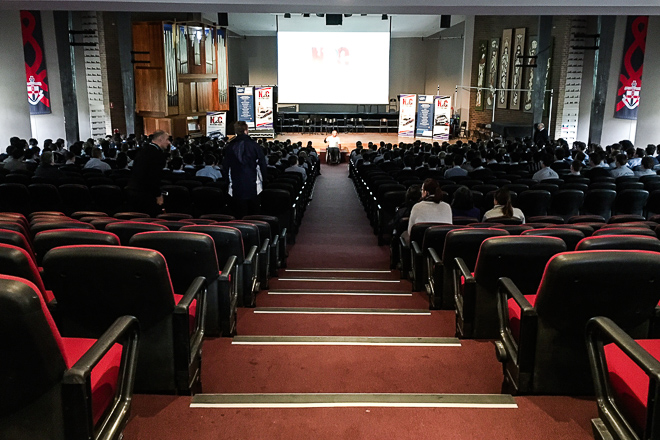 Matt Speakman talking with the Students at The Kings School in Parramatta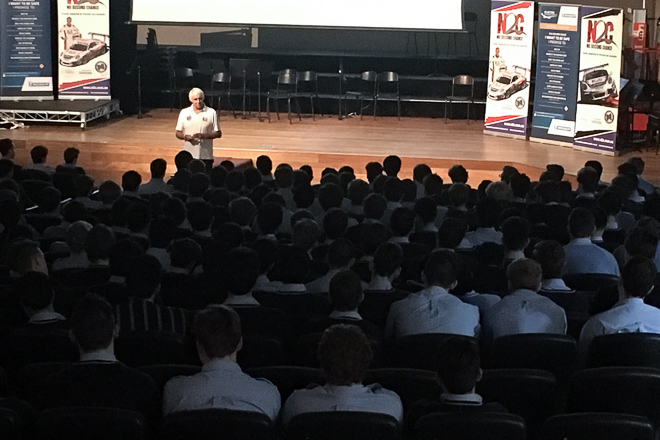 Paul Stanley talks about the tragic loss of his son Matthew Stanley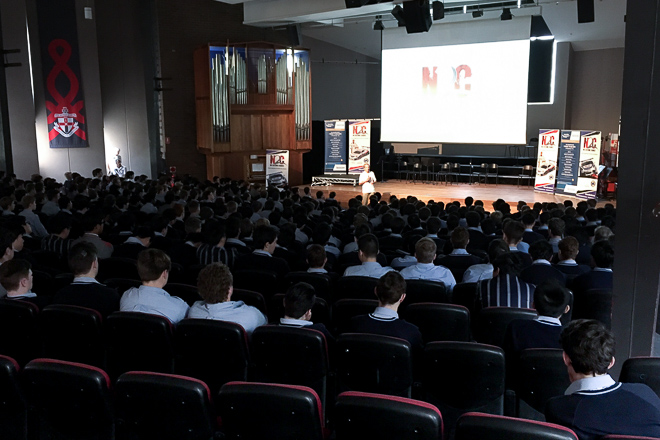 Warren Luff talking motivation with the Students at The Kings School in Parramatta
---
The N2C Top Gun Program
Recent N2C Graduates from School_Name can enter the N2C Top Gun program for their chance to win an exclusive invitation to the Porsche Sport Driving School to complete the 'No Second Chance Porsche Sport Driving School Young Driver Program'.
Read more about: The No Second Chance Top Gun Program