Our most recent N2C presentation was at The Kings School, Parramatta on Thursday 24th May. This year, we presented to over 200 year 12 students.
The King's School Parramatta is Australia's oldest independent school and perhaps its best known. Founded in 1831 by command of King William IV of England, King's was established as a boys' school that would provide Australia with its next generation of leaders. Situated on 300 acres of park-land in the demographic centre of Sydney, King's has also endeavoured to give educational leadership by contributing richly to educational and social debate. Kings is renowned for its academic accomplishments plus sporting achievements in Basketball, Cricket, Rowing, Swimming and Tennis in summer and Football, Rugby or Cross Country in winter. In addition, King's has a proud record in Athletics and Rifle Shooting.
Despite their privileged backgrounds, the young men from Kings really connected with the messages from N2C, here is what some of them had to say:
Paul and Matthew really enlightened me with their devastating stories and their extremely sad first hand experiences as a result of very immature actions. Warren showed me that with hard work and determination you can do what you love forever.
Matthew Chamoun - Student at The Kings School
I though the presenters approaches were very well set out, especially with the two confronting presentations at the start and then the contrasting presentation at the end which made me realise that you can have a good time without doing dumb things.
Jasper Anderson - Student at The Kings School
What was the best part of the presentation? Every action or decision we make has an unimaginable affect on the lives of others. We need to be strong by pushing past the pressure of peers and thinking before every decision we make and abiding by rules that aim to keep us safe.
Hamish Dowling - Student at The Kings School
We left the students with our strong and important message:
Make smart decisions and live your dreams… Make dumb decisions and there is No Second Chance !!
Our next presentation is at The Southport School on the Gold Coast on a date to be confirmed.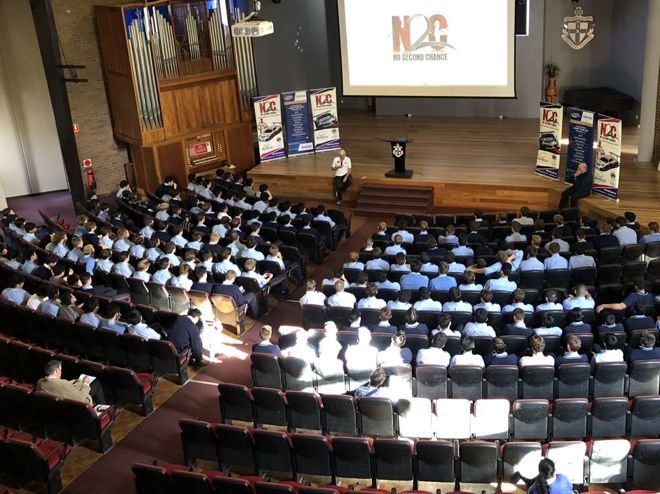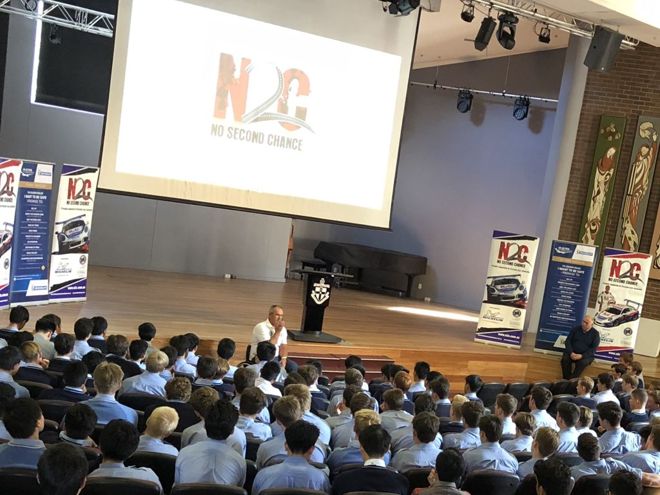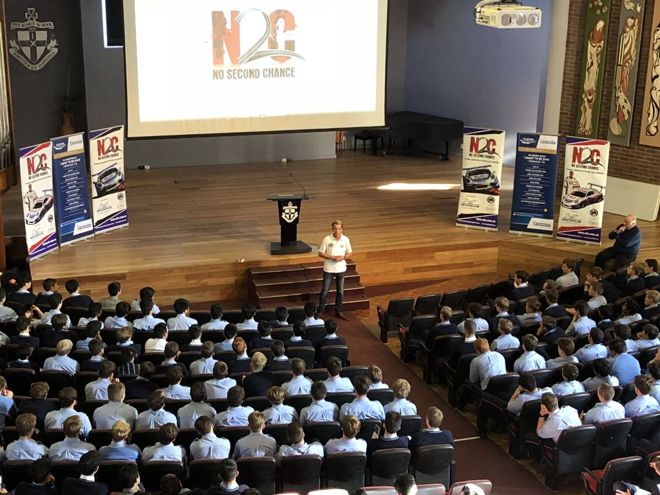 ---
The N2C Top Gun Program
Recent N2C Graduates from School_Name can enter the N2C Top Gun program for their chance to win an exclusive invitation to the Porsche Sport Driving School to complete the 'No Second Chance Porsche Sport Driving School Young Driver Program'.
Read more about: The No Second Chance Top Gun Program