Our most recent N2C presentation was on Monday 3rd of September at Viewbank College, after Round 5 of the Porsche GT3 Cup Challenge championship at Winton. We presented to 190 year 11 students.
We were also privileged to be able to host staff members from our valued supporters Michelin and Morris Finance.
Viewbank College is a public secondary school located in the north eastern suburb of Viewbank in Melbourne, which was established in 1994. As well as offering students diverse learning challenges in the classroom, students have opportunities to develop and explore their talents through the Enhanced Acceleration Program, the debating Program, the music and drama program and the extensive Sports Programs. Students are actively encouraged through the strong Student Leadership program to become involved in the greater life of the College. Viewbank also has an association with Narita Kokusai High School in Japan.
The presentation was a great success and very emotional for many students. Here is what some of them had to say afterwards:
The experience was very hard-hitting and makes you really think about the risks involved in your decisions.
Thomas Sparks - Viewbank Secondary College
The best part about the presentations was that I learnt a lot from the presenters and learnt about their lives and how they're staying positive even though they have experienced things that would've changed their life forever.
Luca Bombaci - Viewbank Secondary College
I would recommend the program to other schools because its overall message conveyed is positive and the presenters are real people rather than being on a computer screen or behind a News story covered by the media.
Thomas Dyall - Viewbank Secondary College
"Make smart choices" will now have meaning when mum calls it after me as I head out with mates. Situations (so real and seemed harmless) took dramatic turn of events. The large scale effects and irreversible consequences of stupid decisions are apparent.
By the time Paul finished his presentation the messages had well and truly hit home but hearing Warren talk I felt reassurance that being safe/ good decisions is what matters and to embrace the opportunity of a life I have and to live my dreams
Bridget - Viewbank Secondary College
We left the students with our strong and important message:
Make smart decisions and live your dreams… Make dumb decisions and there is No Second Chance !!
Our next N2C presentation will be in Brisbane in November.
Off the back of some expansion within the McElrea Racing Group, we will also being taking the N2C message to Singapore in 2019. Exciting times!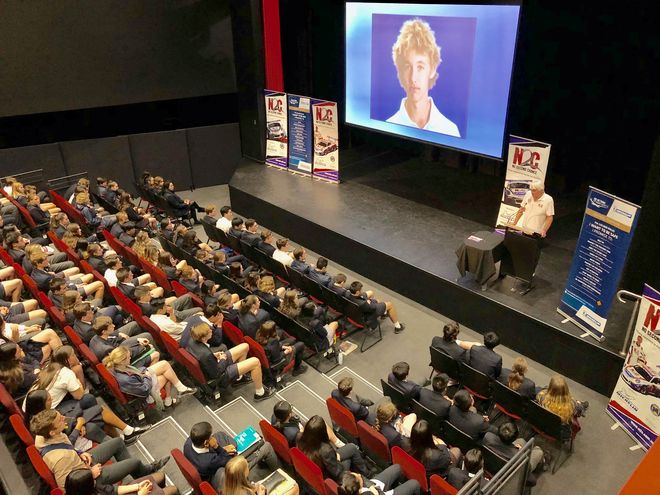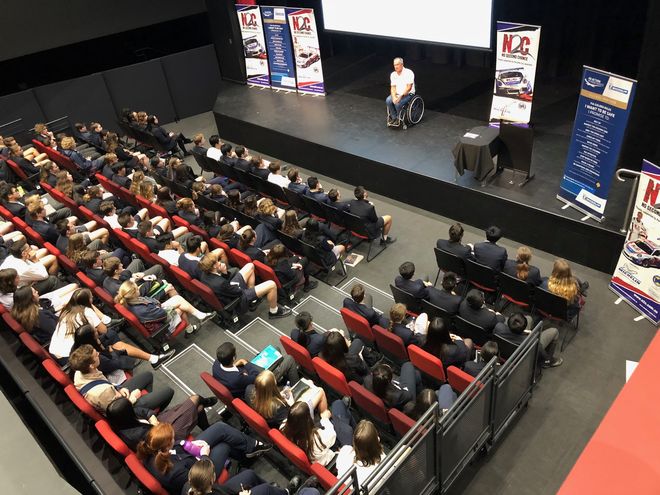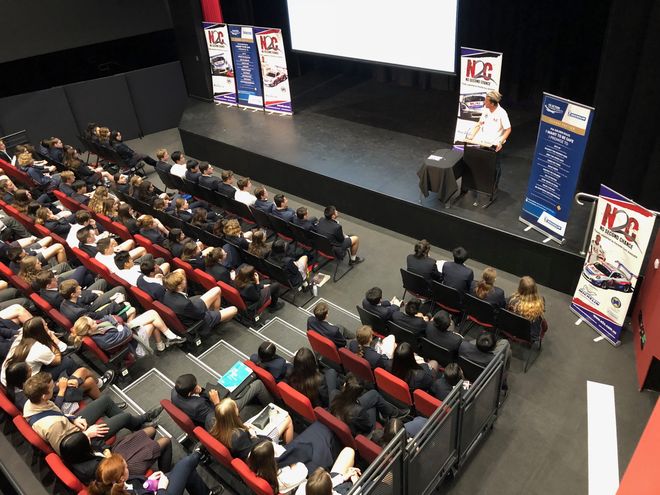 ---
The N2C Top Gun Program
Recent N2C Graduates from Viewbank Secondary College can enter the N2C Top Gun program for their chance to win an exclusive invitation to the Porsche Sport Driving School to complete the 'No Second Chance Porsche Sport Driving School Young Driver Program'. Read more about: The No Second Chance Top Gun Program