Our most recent N2C presentation was at Wavell State High School on Friday 3rd November. We presented to 250 year 12 students. This presentation was the result of a last minute request from the school to address their year 12 school leavers.
Wavell State High School is situated in Wavell Heights, seven kilometres from the Brisbane central business district. The school comprises a junior school (years 7, 8 and 9) and a senior school (years 10, 11 and 12). Approximately one quarter of WSHS students are drawn from a local catchment while the majority of students gain enrolment through selective entry requirements. Acceptance of enrolment is based on academic achievement, sporting performance, talent in the arts or some combination of these attributes. It was the last day of school before final exams, then schoolies, so the timing of our messages was ideal.
Here is what some of the students had to say afterwards.
I thought the presentation was incredibly heartfelt and real. It easily drove the message into my head about not making dumb decisions and making the smart choices, and their stories were truly inspirational.
James Sugden - Student at Wavell State High School
My experience of No Second Chance was life changing and through their didactic presentation, I will forever have my perspective changed on what No Second Chance truly means
Brigitte Freeme - Student at Wavell State High School
Like our recent presentation at Brisbane SHS it was rewarding that such a large number of students stayed to chat and ask questions after the presentation. As usual the girls went to give Paul a hug and the boys went to talk to Luffy & Matt about cars!
We left the students with our strong and important message:
Make smart decisions and live your dreams… Make dumb decisions and there is No Second Chance !!
Our next presentation will be in Adelaide in February leading up to round 1 of the 2018 Porsche Carrera Cup championship.
Many thanks for your continued support.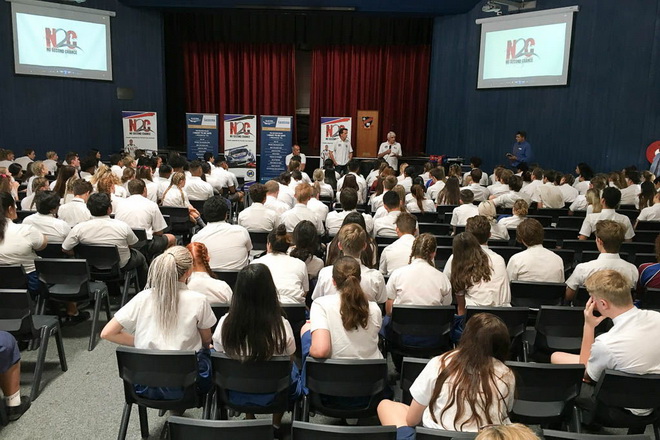 The N2C Presenters Matt Speakman, Paul Stanley and Warren Luff telling their stories at Wavell State High School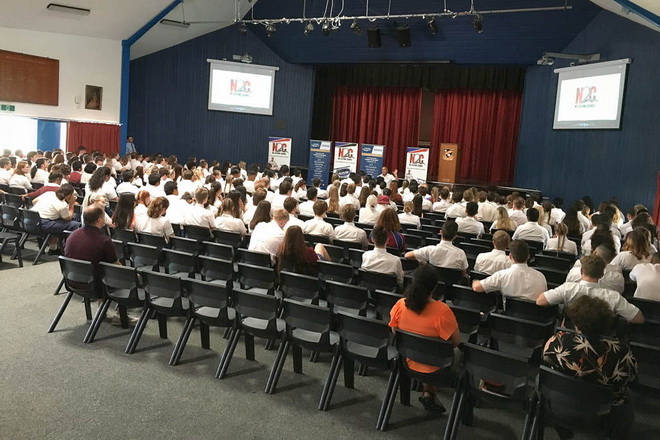 Matt Speakman talks to the students at Wavell State High School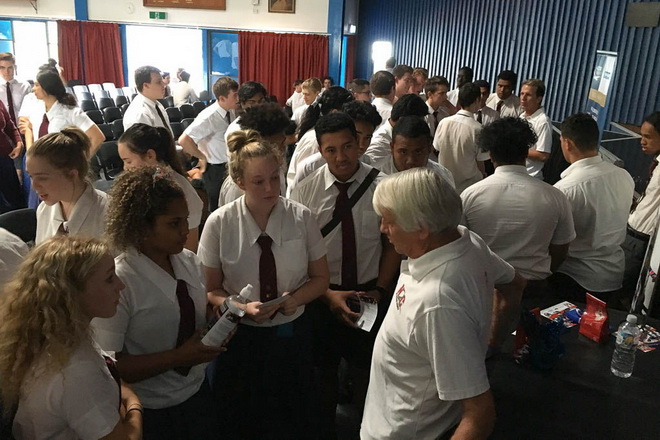 Paul Stanley talks to the students at Wavell State High School after our recent presentation
---
The N2C Top Gun Program
Recent N2C Graduates from Wavell State High School can enter the N2C Top Gun program for their chance to win an exclusive invitation to the Porsche Sport Driving School to complete the 'No Second Chance Porsche Sport Driving School Young Driver Program'. Read more about: The No Second Chance Top Gun Program